Published on
July 1, 2019
Student Researcher Spotlight: Alison Wallum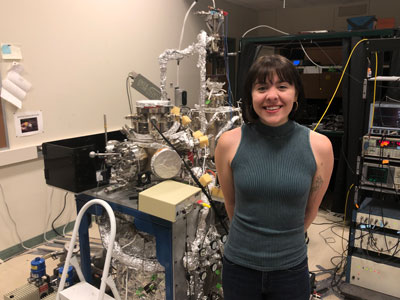 Year/Major:
2nd year graduate student in chemistry
Hometown:
La Quinta, California
Lab:
Gruebele and Lyding Groups
Your research in 50 words or less:
My research surrounds imaging excited states of nanomaterials using laser-assisted scanning tunneling microscopy. Our previous work has focused on investigating excited state properties of materials including quantum dots and carbon nanotubes, while a more recent collaboration with the Badding group allows us to explore excited state features of carbon nanothreads.
What are your hobbies?
Hiking (or anything outdoors), Volleyball, Reading, Cooking, and Music
Favorite C-U restaurant:
Watson's Shack and Rail