Published on
June 27, 2019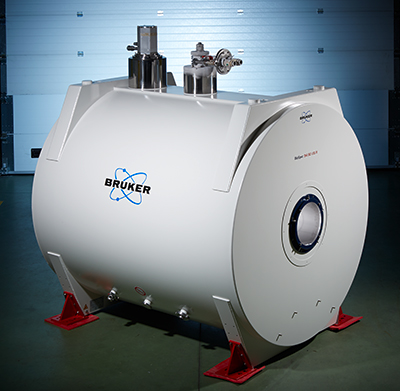 Eighteen University of Illinois colleges, departments, and schools, along with a generous gift from the Roy J. Carver Charitable Trust, are funding the purchase of a Bruker 9.4 Tesla preclinical animal MRI system.
The total cost of the MRI project is about $6 million, and the Carver Trust's gift amounts to just over $831,000. Construction is expected to start this fall, and the MRI will be sited next fall at the Beckman Institute for Advanced Science and Technology.
The Roy J. Carver Charitable Trust, located in Muscatine, Iowa, is one of the largest private foundations in the state of Iowa. It was created through the will of Roy J. Carver, a Muscatine industrialist and philanthropist, and a 1934 graduate of The Grainger College of Engineering at the University of Illinois at Urbana-Champaign. The Carver Trust supports biomedical and scientific research, scholarships, and programs addressing the educational and recreational needs of youth.
The Beckman Institute's contribution toward the MRI used funding from the Arnold and Mabel Beckman Foundation
"Illinois has long been an innovator in imaging technology, including with MRI," said Brad Sutton, technical director of the Biomedical Imaging Center (BIC) and professor of bioengineering. "However, the lack of appropriate preclinical biomedical imaging has kept us from establishing links between our advanced imaging capabilities and fundamental disease mechanisms."
According to Sutton, the new MRI will allow Illinois to lead the way in research on:
Brain development
The impact of nutrition on brain function
Cellular mechanisms in cancer
Improved understanding of sleep and glymphatic flow
The role of mechanical properties of the brain in brain health
The new system will deliver higher-resolution imaging capabilities, enabling researchers to analyze more intricate structures and processes in the brain, and advancing their ability to recommend dietary and drug interventions to improve cognition, memory, behavior, and overall brain health. The new equipment is necessary to enable sufficient resolution for animal studies to provide insights into the biomedical and physiological questions being addressed at Illinois.
The new MRI will be a part of the Beckman Institute's Biomedical Imaging Center (BIC), which is home to many other kinds of imaging equipment, including two whole-body Prisma 3 Tesla human MRI machines. Faculty members from all over the University of Illinois campus conduct research at BIC and the Beckman Institute, as do researchers from external medical institutions, industry, and universities.
Researchers at the University of Illinois have made significant discoveries related to human health using existing MRI equipment in the Biomedical Imaging Center, including:
Pinpointing how components of breast milk and infant formula influence healthy brain development in young animals and in developing infants.
Developing links between brain function and non-invasive imaging measures of brain structure and composition.
Examining relationships between fitness, cardiovascular health, and age-related changes in brain function.
Examining the impact of training interventions on the brain.
Modeling healthy brain development in pigs and humans to provide chronological comparisons of crucial structural milestones to allow direct transfer of findings between these two related species.
Developing new imaging methods that enable mapping of distributions of chemicals in the brain, methods to examine blood flow in the brain, and methods that enable the measurement of the mechanical properties of the brain.
The expertise of BIC staff, and the center's accessibility to researchers on campus and beyond make it the ideal location for the 9.4 T MRI scanner.
"This is really a campuswide effort and will impact research across the campus broadly," said Tracey Wszalek, the director of the BIC at the Beckman Institute. "We have ongoing imaging studies in animals, healthy volunteers, and patient populations, and even soil samples. BIC brings together technology developers with a broad range of researcher needs to push the envelope of what is possible in characterizing everything from the single cell to complex behavior."
The university's clinical partners, as well as researchers within the new Carle Illinois College of Medicine, will also be able to collaborate by using the new MRI scanner at Beckman, Wszalek said.
An MRI scanner provides a safe and non-invasive assessment of anatomy and structure in animals. It is a tool that allows findings from animal research to effectively increase understanding of both human and animal physiological structure and function. Use of MRI allows researchers to expand their knowledge of tissue structure and development in a non-invasive manner. And it provides a direct mechanism to translate that knowledge to human studies.
The University of Illinois contributors to the MRI include:
Beckman Institute for Advanced Science and Technology
The Grainger College of Engineering
Office of the Vice Chancellor for Research
College of Veterinary Medicine
Cancer Center at Illinois
Carle Illinois College of Medicine
College of Liberal Arts & Sciences
College of Applied Health Sciences
College of Agricultural, Consumer and Environmental Sciences
School of Molecular and Cellular Biology
School of Integrative Biology
Department of Cell and Developmental Biology
Department of Molecular and Integrative Physiology
Department of Animal Biology
Department of Biochemistry
Department of Microbiology
School of Chemical Sciences
Department of Psychology
Department of Chemistry