Published on
April 10, 2019
Nancy Sottos, the Swanlund Endowed Chair in the Department of Materials Science and Engineering, is the 2019 winner of the Beckman Institute Vision and Spirit Award.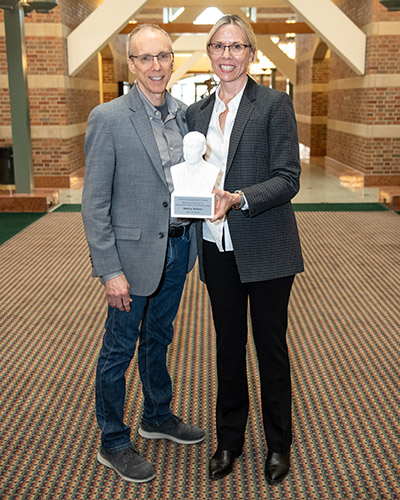 The award, which includes $150,000 in research funding, is given every April 10 as the Beckman Institute marks the anniversary of Arnold Beckman's birth. Beckman and his wife, Mabel, gave $40 million to the University of Illinois to create the Beckman Institute, which opened its doors 30 years ago.
Beckman institute Director Jeff Moore recognized Sottos for her excellence in research, especially in creating rigorous experimental methods that tackle problems at the intersection of mechanics and chemistry.
"Because her field is so unique, she's had to create many one-of-a-kind methods that have become the benchmark," he said. "Her work is rock-solid, and others are working hard to emulate her."
Moore also highlighted Sottos as a "power collaborator," or a faculty member known for crossing disciplines and working with other faculty members and their research groups to offer new contributions to science and technology.
Sottos started her career at Illinois in 1991 after earning a Ph.D. from the University of Delaware. Her research interests include self-healing polymers and advanced composites, mechanochemically active polymers, tailored interfaces, and novel materials for energy storage. She's won awards for teaching, advising, and research. She is a fellow of the Society of Engineering Science and the Society for Experimental Mechanics.
Sottos also leads the Autonomous Materials Systems Group at Beckman. She said she plans to use the prize money to support new research directions within the group.
Sottos joined the Beckman Institute in 2001 along with her late husband and research partner, Scott White, who was a professor of aerospace engineering.
"From that point on, my career changed," she said. "Beckman cemented the collaborations that eventually formed the AMS group. It has led to such an amazing close-knit group of faculty, postdocs, students, staff, and alumni, who have become my academic family. It is amazing to receive an award for having the pleasure of coming to Beckman every day and interact with such a vibrant community."
When it comes to collaborating, Sottos said she embraces "the simple philosophy that working closely with others outside your discipline can lead to extraordinary breakthroughs that would not be possible if you tried to do it all on you own."
She compared those relationships to being part of a family.
"Close collaboration requires a delicate balance of academic passion, engagement, and the sense to know when to compromise a strong opinion," Sottos said. "In the end, the rewards are amazing."
Sottos said she's thrilled to share the award with her research group's students and postdocs, Senior Research Program Coordinators Erica Malloch and Ashley Trimmell, and Microscopy Suite Manager Scott Robinson. She also shares it with "all of the faculty across campus I have had the pleasure to collaborate with, especially my 'power collaborators' Jeff Moore and Philippe Geubelle, and most of all my partner in everything, Scott White."