Published on
March 1, 2019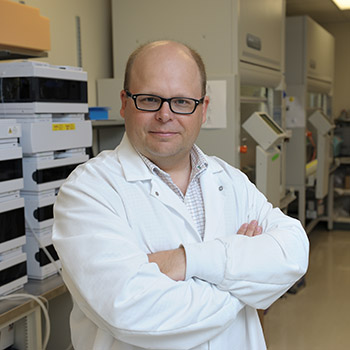 Wawrzyniec Dobrucki, an assistant professor of bioengineering and a faculty member at the Carle Illinois College of Medicine, has been named a co-chair of the Beckman Institute's Integrative Imaging research theme.

He replaces Professor Stephen Boppart, who remains a Beckman faculty member and recently began serving as interim executive associate dean and chief diversity officer of the Carle Illinois College of Medicine.

Dobrucki's research focuses on multimodal imaging, specifically looking at tissue microenvironments using nuclear and optical methods. While his professional experience has been in imaging cardiovascular pathologies such as peripheral arterial disease, he has a growing interest in imaging cancer because of the collaborative opportunities open to him at the Beckman Institute.

"Imaging is science's universal tool," he said.

As co-chair, his vision is to help those within the theme collaborate even more, both within the Beckman Institute, in other campus research institutes, and beyond. He emphasizes the importance of a collaboration with Carle Foundation Hospital and the Carle Illinois College of Medicine, and wants to increase the number of faculty members who collaborate in basic and clinical science, and in engineering.

More specifically, he would like to encourage more work in cardiovascular imaging. He believes Beckman is the best place on the Illinois campus to do such work. Beckman Institute as a modern collaboration hub, can bring together clinicians, scientists, and engineers who can identify clinical challenges, then create products and develop ideas to study that will address those problems. The result will be solutions that can be translated to clinical practice to improve health care, he said.

Dobrucki also supports equal development of different types of imaging and use them to study new concepts and novel ideas. He likens the value of multimodal imaging to that of collaboration because different types of imaging offer new insights on anatomical, physiological, and molecular changes, he said.

"We'll be able to identify new pathways and targets for therapies and the ways to monitor them non-invasively," he said. "This can only be done through collaboration."

Dobrucki earned his Ph.D. in chemistry from Ohio University in 2003, and his M.Sc. degree in bioengineering from Technical University of Wroclaw, Poland, and Technical University of Hamburg, Germany. Prior to joining the Department of Bioengineering as a tenure-track faculty member in 2013, he was a junior faculty member at Yale University School of Medicine and a senior research scientist at the Beckman Institute. He is also the engineering course director for the cardiovascular module for Carle Illinois College of Medicine.