Published on
Jan. 31, 2019
Get to Know Meg Dickinson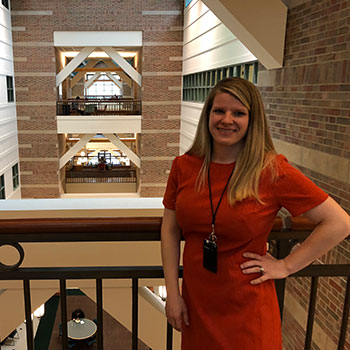 Explain your job in 50 words or less:
I lead Beckman's communications team, which shares news and information about the institute and its research on campus, within our community, and throughout the world.
How long have you worked at Beckman?
Not long! I started Jan. 28, 2019.
What do you like to do in your free time?
Spend time with my 14-month-old daughter, Sylvia. She is a part of IKIDS, which means she and I participated in research through the Children's Environmental Health Research Center at Beckman. She loves science already!
I also enjoy running, reading, and singing in my church choir. I write a cooking column for The News-Gazette.
What excites you about Beckman?
People here value excellence in research and share a passion for collaboration. As a result, just about anything seems possible here. I'm looking forward to sharing this story, finding news ways to spread the word, and engaging people who will be delighted to learn about our work.
Favorite C-U restaurant?
Papa Del's or Jupiter's. Pizza is my love language.