Published on
June 25, 2018
Alison Bell, an associate professor of animal biology in the School of Integrative Biology, and Lynford L. Goddard, an associate professor of electrical and computer engineering, were among five faculty members recently named 2018-2019 University Scholars. Both are affiliated with the Beckman Institute.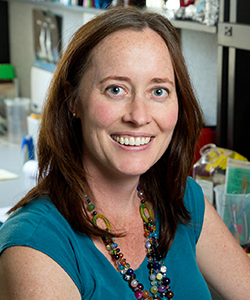 Founded in 1985, the systemwide Faculty Scholar Program recognizes outstanding faculty members and provides each recipient with funding to enhance their scholarly activities. Recipients may use the funds ($15,000 annually for three years) for travel, equipment, scholarly materials, or other uses that support their university-related teaching or research.
Bell is affiliated with the Cellular and Molecular Foundations of Intelligent Behavior Group at the Beckman Institute and the Carl R. Woese Institute for Genomic Biology.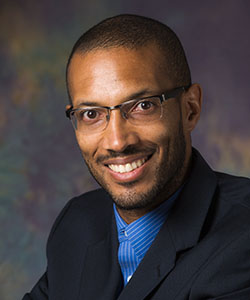 Research in the Bell lab focuses on understanding why individual animals behave differently from each other. Even an individual fish, for example, behaves differently from other fish, through time and across situations. Present work in the lab focuses on behavioral variation, behavioral plasticity, and transgenerational plasticity. The work combines field and lab behavioral experiments, neuroendocrine analyses, and often capitalizes on the natural diversity among different populations to understand the evolutionary context in which behavioral variation and plasticity play out.
Goddard is affiliated with the Bioimaging Science and Technology Group at the Beckman Institute and the Micro and Nanotechnology Lab.
Goddard's primary area of research lies within the fields of microelectronics and photonics. His research group, the Photonics Systems Laboratory, studies how light and lasers can be applied for sensing and measuring, communicating, and data processing. Its research focuses on how to fabricate, characterize, and model individual lasers and photodetectors, photonics-based sensors, instrumentation, and integrated circuits, as well as developing new processing, inspection, characterization techniques, and testing novel semiconductor materials and devices.