Published on
April 20, 2018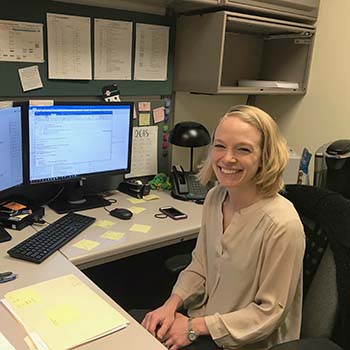 Explain your job in 50 words or less: I serve as a Grants & Contracts Coordinator here at Beckman Institute. I provide research faculty with assistance in all things related to grants and contracts. As part of Grants & Contracts team, I will provide help in preparing, reviewing and submitting proposals; as well as help manage active projects.
How long have you worked at Beckman? Almost two months.
What do you like to do in your free time? During my free time, I enjoy spending time with my husband and four kiddos. We run on lots of Jesus, coffee and sports, but baseball is a favorite!
What excites you about Beckman? The family feel and multi-disciplinary research.
Favorite place to eat in the C-U area: A few of our favorites are: Black Dog, Farren's and Courier Cafe.