Published on
March 16, 2018
In early February, the usually imposing Beckman Institute atrium resembled a playground of sorts with the addition of an assortment of oddly shaped chairs as well as brightly colored plastic connective toys and pipe cleaners that were placed at tables. The center of the research institute became a laboratory for a research project in design, led by a graduate student in industrial design.
"My research question for my thesis is actually about atriums in higher education facilities and how they can be better utilized to have people collaborate and spend time in those spaces," said Amanda Henderson, a master's student in the College of Fine and Applied Arts and also graduate designer-in-residence at the Beckman Institute.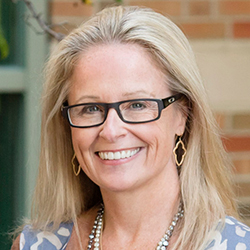 Henderson and her adviser, Deana McDonagh, are researching the way space throughout the Beckman Institute is used and will propose design solutions for the institute as a whole. McDonagh, a professor of industrial design, was named Beckman designer-in-residence last year.
"Beckman as a whole is too big of a question for the thesis," Henderson said. "But I decided that since we weren't focusing on this section of the atrium quite yet, and I'm very interested in how design forms can influence the way people interact with the space, that I would focus on designing these workstation pods that have multiple functions."
For her project, Henderson re-imagined the central area of the Beckman atrium with several tables with interactive items—some tables were more private than others with the use of PVC pipe framing and tarp walls. She rearranged pre-existing sectional chairs into different orientations and differently sized groups. Several unique chairs, including one that looked like an apple core and one with a built-in electrical outlet and USB plug-ins on the arm, were part of the social experiment. For two weeks, she observed and filmed how people interacted with the space. She'll create a "flexible workstation for interaction and collaboration" that will appear in the School of Art and Design's MFA Exhibition at Krannert Art Museum's Link Gallery, April 21-28. The data from her observations and survey responses also will be used for her master's thesis, which she plans to complete this summer.
The overall Beckman design project is threefold: redesign of research neighborhoods on each floor of the building, the first-floor atrium, and the Beckman Café. Henderson and McDonagh have been working together on different areas of Beckman to not just update the nearly 30-year-old building, but also to "… create an inclusive 'village' that embraces traditional and emerging technologies while attracting future generations of researchers," said McDonagh, who has been affiliated with Beckman for 12 years and is a member of the Social and Emotional Dimensions of Well-being Group.
According to feedback from the Beckman online bulletin board and survey responses, the perception of the Beckman interior is that it is "out of date," "tired looking," and therefore "irrelevant."
Jeff Moore, the director of the Beckman Institute, was the impetus behind the project.
"While I was interim director," Moore explained, "I began looking at the institute differently than I did as just a Beckman faculty member who came here to work every day. It occurred to me that the institute was frozen in 1989, and that does not reflect how progressive Beckman is. I knew we would need vision and inspiration from a design professional. Since we're the Beckman Institute the process to determine the potential transformation should be a learning laboratory."
The first of the project's goals are underway as three of the research areas, also called "collaborative neighborhoods," will be completed this summer.
"We're really focusing on creating customized floor plans and layouts for the research neighborhoods," Henderson said. "We're working with furniture vendors to pick the best furniture lines we can in order to create spaces that are both functional and aesthetically pleasing, as well making sure it complies with the federal Americans with Disabilities Act (ADA). We really want Beckman to be the go-to space on campus for collaboration, and create a place where people want to go."
The atrium and café redesigns are long-term projects, as the team examines the needs of the institute and how the space is used now and will be used in the future.
"We want to really bring the café space to life," Henderson said. "Jeff (Moore) believes in the idea of food bringing people together, and I do too, so I think that's really going to be a nice point of interest on campus for people to come up here and try the new dishes and enjoy the new space."
"There's also been talk of revamping the tower rooms, and areas dubbed 'purgatory spaces,' which refers to the bridges overlooking the atrium, the hallways, and other areas where space could be utilized better," Henderson said. "There's a lot to be done."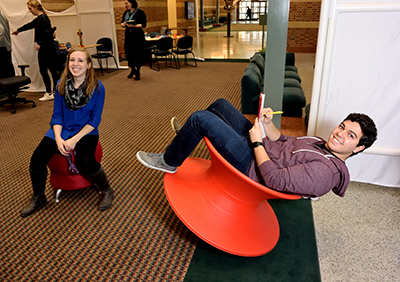 McDonagh has expressed the desire for an inclusive "village" concept that may include knocking out some brick walls and replacing them with glass to create a design center, museum, recreational center, and the reinvented café.
Moore explains the concept. "I want a Beckman Institute that people see as playful, creative, innovative, and inspiring," he said. "The main purpose of the 'village' is to serve as a magnet to attract collaborators from across campus—a place where people love to meet, get inspired, and energized. It should be welcoming to a diverse community of scholars, researchers, and entrepreneurs, as well as off-campus professionals who want to collaborate. It should also offer a welcoming receiving area for non-campus visitors who are eager to come to the village.
"People will be clamoring to come to Beckman to work, play, share, exercise, eat, and collaborate in an inviting and stimulating atmosphere. In this way, Beckman becomes a thriving 'village.'"
"The products, services, and environments we engage with daily impact our productivity levels and quality of life," McDonagh said. "Good, effective design should be invisible. Bad design slaps you in the face! Good design makes tasks seamless and to a degree painless for the individual."
McDonagh relishes the opportunities that the institute offers her.
"It is my happy place because this community allows me to collaborate with the best and the brightest," she said. "The intellectual capital married with the collaborative spirit has proved to be a lifeline for me personally.
"However, change is often difficult. We aim to enhance and enrich the Beckman environment. We want the Beckman Institute to be the destination on our campus."
As the process continues, the Beckman community will be updated through town hall meetings, the Beckman Bulletin, and social media. People are invited to give feedback through the discussion board (go.illinois.edu/BeckmanBoard).