Published on
Feb. 23, 2018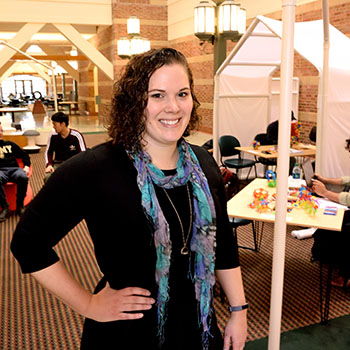 Name: Amanda Henderson

Year/Major: MFA Industrial Design, 3rd year

Hometown: Millersville, PA

Lab/Position: Beckman Institute Designer-in-Residence

Your research in 30 words or less: My current research focuses on how designed forms change perception of a spatial environment. The goal of this research is to use designed forms to create spaces that allow people to feel comfortable and knowledgeable interacting with their surroundings.
Favorite C-U restaurant: Sakanaya or Fiesta Cafe
Amanda Henderson is pictured here with furniture prototypes in the Beckman Atrium.