Published on
Jan. 19, 2018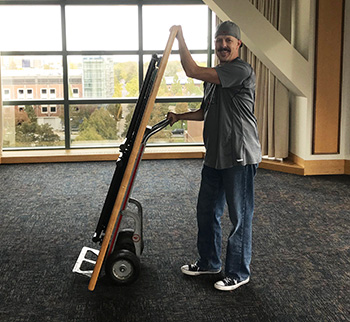 Explain your job in 50 words or less: I provide specialized services in converting offices and laboratory areas to meet user needs. I work in parallel with the Beckman Space Reservations group to provide room setups in addition
to setup and operation of audio/visual equipment used for events. I ensure all hardware hook-ups
for laptops, projectors and cameras function accordingly before events as well. I also assist with
furniture moves, cleaning and security on occasion.
How long have you worked at Beckman? 4 months
Favorite things to do outside of work: Spending time with my family, leading a small group at church, and fishing.
Hometown: Brocton, IL
What excites you about Beckman? How friendly everyone is here. Everyone has really made me feel
at home and that has been a pleasure. I am also intrigued by the multitudes of forward-thinking
research that is happening here, it's very compelling. Chris Roberts has been outstanding in showing me everything I need to know about Beckman and being an Attendant.
Favorite places to eat in C-U: O'Charley's, Farren's, and Seven Saints