Published on
Oct. 27, 2017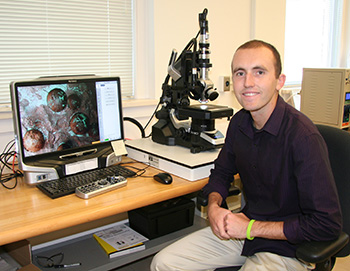 Name: Andrew Lauer
Year/Major: 4th year, Materials Science and Engineering

Hometown: Highlands Ranch, CO

Lab: Autonomous Materials System Group

Your research in 30 words or less: I study the self-healing effects of solvent filled microcapsules in carbon fiber reinforced, thermoplastic toughened epoxy composites.
(This research is sponsored by the AFOSR)
Favorite C-U restaurant: Black Dog
Andrew was recently awarded "image of distinction" in the Nikon Small World microscopy contest- a leading showcase for optical microscopy intended to highlighted beauty that cannot be seen by the naked eye. The image is a false coloration of ruptured microcapsules in the fracture plane of a two-phase self-healing polymer. Andrew is pictured above with the image on the monitor beside him.
Read more about the Nikon Small World contest here.
See Andrew's specific image here.