Published on
Oct. 12, 2017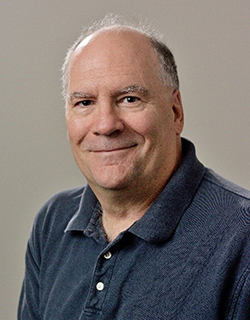 Sam Beshers, the coordinator of the Neuroscience Program and a research associate at the Beckman Institute, was honored with the 2017 Graduate College Excellence Award for Graduate Contact at the college's annual workshop on Oct. 11.
This year, according to Wojtek J. Chodzko-Zajko, the dean of the Graduate College, there were nearly double the number of nominations for this honor. The award seeks to recognize "those staff members whose service has enhanced the experiences of graduate students and/or has had a positive impact on the operations of the graduate program or department."
The dean noted that Besher's nomination stood out as he was described as the "lynchpin of the Neuroscience Program." He was described as someone who strives to personally connect with the students and faculty creating a "family-like, nurturing, and welcoming place" which "translates directly into inspiring the students to achieve at their highest ability."
Besher has worked for NSP for nearly 15, and the award honors his continued dedication to neuroscience, NSP, and everyone associated with the program.