Published on
Sept. 15, 2017
Leave a lasting mark on the Beckman Institute by designing a space in the Institute!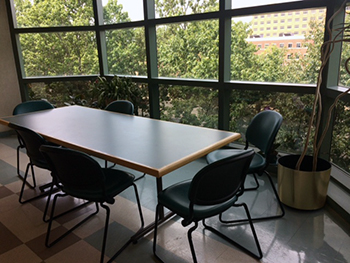 We have identified a number of areas in the building (the hallways on the north side of building floors 1-3, and the former phone closet outside Room 1003) as "purgatory" spaces. These are spaces that are underutilized, yet have great potential.
Beckman Designers-in-Residence Deana McDonagh and Amanda Henderson are available to work with faculty, staff, and students on proposals. McDonagh is a professor of industrial design and designer-in-residence at the Research Park. Henderson is a graduate student in the School of Architecture.
Beginning Friday, September 15, McDonagh and Henderson will be on hand to help provide guidance and expertise. All you need is an idea.
Design proposals will be displayed throughout the month of December, and all Beckman faculty, staff, and students will be encouraged to vote. The top three designs will go on to the final judging by Jeff Moore, the director of the institute, in consultation with the designers in residence.
A permanent plaque will be located in the space, identifying the winner/winning group.
Contact Deana McDonagh at mcdonagh@illinois.edu to get the process started.