Published on
Aug. 7, 2017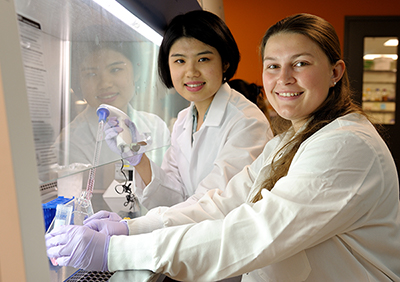 "Our REU program is a wonderful opportunity to bring in some of the top undergraduate students in the U.S. and inspire them through bioimaging to pursue graduate degrees," said Stephen Boppart, a professor of electrical and computer engineering and of bioengineering who also is co-chair of Beckman's Integrative Imaging theme. Boppart is the principal investigator for the program. "This is the perfect opportunity to engage the next generation of scientists and engineers, particularly those from underrepresented groups," he said.
Marina Marjanovic, the REU program coordinator and the associate director of the GSK Center for Optical Molecular Imaging, said the program, which receives more than 100 applicants each year, has three main goals.
"It's about research and exposure to a different academic environment," Marjanovic said. "It's also about professional development because we offer them other types of training besides research."
Professional Development and Training
The program begins with a weeklong Bioimaging Bootcamp that provides safety information as well as foundational information on biology, imaging, and microscopy through lectures, demonstrations, lab activities, and tours. Then, the students engage in intensive research projects in imaging and biological visualization, closely mentored by a faculty member and graduate student. The program has exceeded expectations and benefits everyone involved, according to Boppart.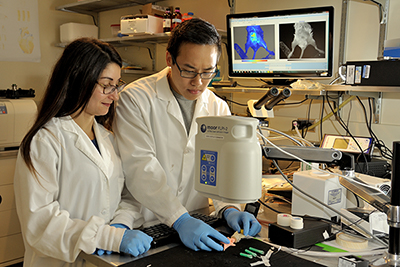 "The (undergraduate) students have been excellent and incredibly dedicated to their research and to fully experiencing the graduate research lifestyle," he said. "Their graduate mentors have gained a new sense of professional maturity as they shift from student to teacher, and the faculty mentors have seen their own research program advance as a result."
Professional development also is a key part of the program. Several U of I REUs and similar campus programs often collaborate on activities for participants, and the Graduate College hosts professional development events for students as well. In addition, the students receive guidance in preparing for an oral and poster presentation at the campus's Illinois Summer Research Symposium (ISRS).
Students Reap the Rewards
Participants are enthusiastic about the benefits of an REU.
"I didn't know much about bioimaging or medical device research prior to this REU," said Amanda Craine, who is about to begin her junior year in biomedical engineering at Pennsylvania State University. "Through different seminars, I have learned about many different aspects of imaging research and its direct impact on the medical field. I have also learned more about graduate school admissions, the milestones within a Ph.D. program, and how to prepare for graduate school."
Craine has been working in the lab of Princess Imoukhuede, an assistant professor of bioengineering and member of the Bioimaging Science and Technology Group (BST). Her summer research focuses on studying angiogenesis, the growth of new blood vessels from pre-existing vasculature.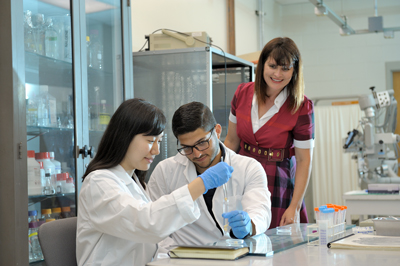 At right, Catherine Best, a research assistant professor of bioengineering, supervises students, including REU participant Javier De Jesus Astacio, center, who will start his third year in mechanical engineering at the University of Puerto Rico at Mayaguëz, and Yujin Lee, an Illinois junior in bioengineering.
Craine's mentor Cheri Fang, a first-year Ph.D. student in bioengineering, is participating in the REU for the first time. "Amanda has been doing great in learning the techniques important to our research," Fang said. "We have worked on experimental techniques (cell culture, immunomagnetic cell isolation, flow cytometry), technical writing, critical thinking, and using analytical software."
Than Huynh—the only Illinois student in the group—will be a junior in bioengineering. This summer, he is working in the lab of Wawrzyniec Dobrucki, an assistant professor of bioengineering and member of Beckman's BST Group. Huynh previously conducted research with Dobrucki and his graduate mentor Jamila Hedhli, a fourth-year Ph.D. student in bioengineering who also was a mentor last year.
"I saw this REU program as an opportunity to not only continue our research with my undivided attention, but also as an opportunity to explore more of the campus itself and all the cool 'toys' the other labs have," Huynh said. "Through this experience, I also hope to get a look into graduate student life here (at Illinois) and to further build on the foundations of my developing research skills."
His research project utilizes PET-CT and ultrasound technology in addition to laser speckle contrast imaging to assess angiogenesis and its connection to the phenotype of different melanoma cell morphologies.
Javier De Jesus Astacio, who will start his third year studying mechanical engineering at the University of Puerto Rico at Mayaguëz this fall, is working in the lab of Catherine Best, a research assistant professor of bioengineering.
"My goal is to provide a realistic world of research experience," Best said. "I like for the students to see the ups and downs of research, and to appreciate the process of science."
She has been impressed with Astacio's progress in the program. "He has exceeded my expectations in every way," she said. "Javier is tenacious, has persevered through many technical challenges, thinks critically, and is a great communicator. With these traits, and a little guidance from Pati Cintora (his graduate student mentor), he successfully used spatial light interference microscopy (SLIM) to quantify mass, volume, and cell density maps from his 3D models of a mouse cerebellum."
Leading by Example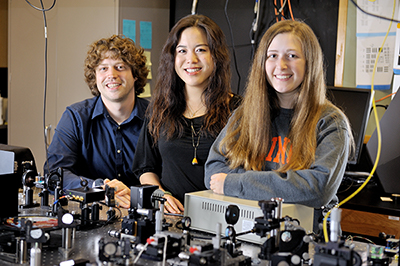 Joanne Li, a sixth-year Ph.D. student in bioengineering, has served as the REU's research team leader for three years and is serving as a graduate mentor for Janet Sorrells, a fifth-year senior studying biomedical engineering at the University of Rochester who is working in Boppart's lab. Li has been impressed with Sorrells' achievements.
"She's doing amazing and has totally exceeded my expectations," Li said. "Since both Andrew (Bower, a fifth-year Ph.D. student in electrical and computer engineering who also is a grad mentor for Sorrells) and I have taken the approach of being very hands-off with her, she usually works independently—and she's getting lots of good data. Her independence plus this level of work quality is something I don't often see from an undergraduate student."
As the research team leader, Li checks in with each student frequently, holding weekly meetings with them to make sure they are making progress, meeting deadlines, and also handling the stress of such an intense program.
"One of the purposes of this program is to let the students experience grad school at the U of I, so I share a lot of my experiences with the students—both good and bad—because at the end of the program, I want them to have a clear and realistic idea of what grad school is like and whether it's the path they want to take," Li said. Marjanovic is in the process of preparing an NSF proposal to renew the REU which is in its final year of a three-year agreement. Andrew Smith, an assistant professor of bioengineering and co-PI for the program will serve as PI and Marjanovic as co-PI if the project is accepted; Boppart will continue as a faculty mentor.
Of the 12 students who have graduated since participating in the program during the first two years, nine are in graduate school or will enter this fall. Four are enrolled at Illinois. One additional student has deferred his admission and plans to attend Illinois.
"We hope to continue our involvement because of the success of the program to date in encouraging undergraduate students who are underrepresented in STEM graduate programs to attend graduate school," Smith said. "Continuing also benefits (the Urbana campus) directly because the program serves as a unique experience for undergraduates from other campuses to become immersed in campus prior to applying for graduate school, which enhances our recruitment rate of top students."