Published on
July 6, 2017
Researchers at the University of Illinois at Urbana-Champaign have a long history of innovation and discovery in the life sciences, engineering, supercomputing, and imaging. Now, they are launching a new center of interdisciplinary collaboration—the Cancer Center at Illinois—to make a greater impact in the fight against the second leading cause of death in Illinois and the United States.
The Cancer Center at Illinois will bring together more than 90 faculty members from across campus, and numerous graduate students and postdoctoral researchers, to pursue cancer-related research.
"We are deliberately building an infrastructure that will enable our researchers to do what they do best: solve complex problems that span disciplinary expertise," said Peter Schiffer, vice chancellor for research at Illinois. "The Interdisciplinary Health Sciences Institute's Cancer Community was launched to organize and support cancer research expertise at Illinois. The formation of the Cancer Center is a significant next step in our work to advance the fight against cancer."
Illinois has exceptional research programs, shared research facilities, novel educational programs and the strategic partnerships to address this challenge. The Cancer Center will work to advance knowledge in fundamental science and engineering so that it can be translated into interventions that address cancer throughout a patient's journey.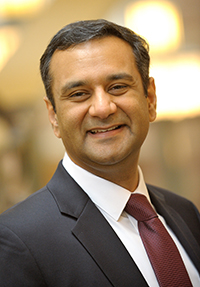 "Today we applaud Founding Director Rohit Bhargava's leadership in forming a community of like-minded researchers, creating innovative educational opportunities in cancer research, and connecting with clinical partners. Now, the Cancer Center at Illinois is poised to make significant impact in how this university transforms cancer research," said IHSI Director Neal Cohen.
Bhargava, Founder Professor of Engineering at Illinois, is deeply involved in cancer research and education efforts. With a primary appointment in bioengineering and affiliations with the Departments of Chemistry, Electrical and Computer Engineering, Mechanical Science and Engineering, Chemical and Biomolecular Engineering, and the Beckman Institute, he pioneered the field of digital molecular pathology, using spectroscopic imaging to study cells. He also leads the National Institutes of Health (NIH) supported Tissue Microenvironment Training Program for graduate students and the undergraduate Cancer Scholars Program.
"The Cancer Center builds upon our work over the last several years to support the outstanding investigators, scientific resources, and highly collaborative environment we have at Illinois," Bhargava said. "I am deeply grateful to our faculty and staff, the cancer community steering committee and University leaders for their enthusiasm, support, and hard work that has led to this moment."
Campus support and enthusiasm for the Cancer Center is strong, echoing the university's strategic commitment to overall health-related impact. Working in partnership with IHSI, the Beckman Institute, the College of Engineering, and the Department of Bioengineering have been deeply involved in the creation of the new Cancer Center. The new Carle Illinois College of Medicine's inaugural dean, Dr. King Li, previously the senior associate dean of research and deputy director of the cancer center at Wake Forest's School of Medicine, will serve as deputy director of the center, while the Cancer Community steering committee, headed by H. Rex Gaskins, will continue to guide the Cancer Center.
IHSI will similarly continue work to strengthen campus-level and clinical partner connections for the Cancer Center, which has big plans ahead. One goal is to become a National Cancer Institute (NCI)-designated cancer center in the near future, making the Cancer Center at Illinois a unique contributor of next generation technologies and interventions to address cancer across the lifespan.
"Given the urgent need in our society for better healthcare at lower costs, we are excited that Illinois' research strengths are focused through this center to serve the community, state, and nation. We are looking forward to exciting advances against cancer for many years to come," said Bhargava.