Published on
Oct. 24, 2016
Many of the research innovations at the Beckman Institute have been coupled with changes in computer technology that no one could have foreseen when the Institute opened in 1989—before most people knew what the Internet was and long before the advent of personal computing and cellphone apps.
The Institute's Information Technology Services (ITS) group has excelled at advancing its services as the backbone for Beckman's technological needs. The ITS group at Beckman has existed in a number of forms since that time, but the group has been responsible for network and systems security support, printing, file storage, web hosting, server and desktop administration support, business application development, general computing assistance, and consulting services for computing needs.
While the tasks of the department appear as a never-ending laundry list of responsibilities, Nancy Mansfield, director of ITS, explained that the group's primary role is to "keep the wheels on the bus."
Early Years
"What we bring to the table is that very strong customer service perspective. We follow through and make sure work gets done."--Al Marquardt, former co-director of Information Technology Services
Al Marquardt, former co-director of ITS (1993-2016), began working in what was then called the Systems Services Group. Mansfield started in 1994.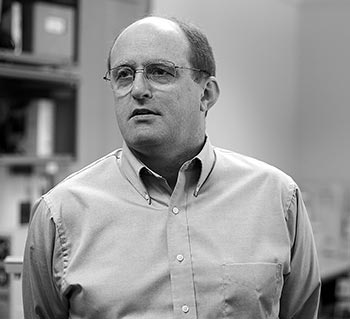 "We had people in the office who had to learn how to use a computer," said Marquardt. "They hadn't seen a computer until they started working here. One of the first things I did was teach people how to use a mouse."
Along with training Beckman personnel to use computers, the group had to keep abreast of computing changes, such as switching from MS-DOS to Windows and, later, introducing Microsoft Office to staff.
Technological changes were rapid and altered not only the computing world, but how researchers could access and share information. Marquardt and Mansfield both saw how the advent of the World Wide Web affected computing expectations. In 1992, Mosiac, an early web browser, was developed at the National Center for Supercomputing Applications (NCSA), then located on Beckman's 5th floor where the ITS offices are now.
These technological changes were well-received throughout the Beckman Institute.
"The changes were easier because Beckman leaders knew they needed to happen. We were serving a need, rather than trying to make people convert to a new way of doing things," said Marquardt.
"Many people picked it up on their own, people were more willing than expected to learn," said Mansfield.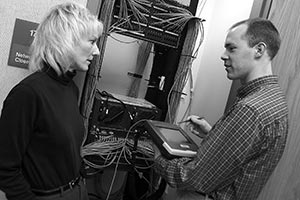 However willing people were to accept the changes, providing services to staff was not without its challenges. Shortly after Mansfield joined the small shop of four employees, the founding director of Systems Services and other employees resigned, leaving only Marquardt and Mansfield. During this time, all technological responsibilities for Beckman were left on their shoulders.
"It was hectic, but I think we handled it quite well," said Mansfield.
Marquardt and Mansfield decided to make the best out of their situation.
"We took it as an opportunity to learn more than we had learned in the past," said Marquardt.
Marquardt and Mansfield managed to build their team up again, eventually to 13 people, including Marc Taylor, senior systems engineer, who joined the group in 1998. Taylor had a degree in engineering from the University of Illinois and fell into ITS after graduation.
"There were no classes for IT during that time. You just learned it as you went along, that's how we did it," said Taylor.
His first job with ITS was to maintain the public printing system. When Taylor was hired, the group included eight or nine people, the same number as today.
"People don't think about it, but here in the Institute there are about 100 researchers for every ITS staff member. It doesn't take much for a workday to get hairy," said Taylor.
Eighteen years later, the ITS group still faces many challenges due to rapidly changing technologies and continually adapts to tackle them.
Technology Today
Beckman researchers and staff have grown more accustomed to using technology. For ITS, this means the work has shifted from teaching people to use programs to using these programs to their fullest potential.
"As technology has changed, it's gotten easier but more complicated," said Mansfield
"It's a lot like technology every day in your home. There's more and more of it, more programs, more devices, more places to store files. It's gotten more complex, but as the tools have gotten better it's becoming easier to manage," said Marquardt.
Future Challenges: Centralized Technology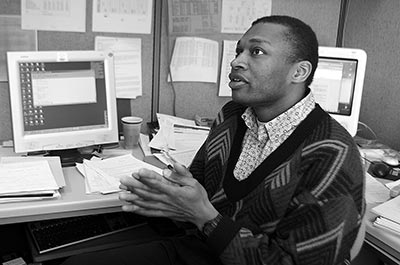 As campus looks to centralize computing services, the ITS staff will remain essential to providing expertise for Beckman researchers and staff.
"We understand the philosophy and mission of the Beckman Institute," said Marquardt. "We're going to help researchers connect with campus resources rather than us supplying them directly. Rather than service supplier, we'll be consultants.
"I have a problem and need someone in my office in the next five minutes. You can't do that from across campus. What we bring to the table is that very strong customer service perspective. We follow through and make sure work gets done."
"People enjoy a familiar face. It's really personal. If you have certain applications or certain ways you do things, it's nice to have the same person or group of people coming in so you don't have to keep repeating yourself," said Mansfield.
In 2016, Marquardt retired after more than 20 years at the Beckman Institute.
"He's been quite a mentor to me, the whole time I've been here," said Taylor.
"You can't just accept change, you have to seek it out. Or else the world will pass you by," said Marquardt.