Published on
June 10, 2016
Robb received his Ph.D. in chemistry from the University of California, Santa Barbara in 2014, and has been working with Jeffrey Moore, professor of chemistry and member of Beckman's Autonomous Materials Systems (AMS) group.
"Instead of generating reactive chemicals using force, we are developing new molecules that change color or fluoresce to 'self-report' microscopic damage," said Robb. "In addition to developing a better fundamental understanding of mechanophore reactivity and design, this technology is important for improving the safety and reliability of polymer-based materials, while also reducing costs associated with routine maintenance and inspections."-Maxwell Robb

Robb's graduate work produced a number of synthetic strategies that provide access to a wide range of polymers and innovative technologies. Polymers are long chains of molecules that range from synthetic plastics to biomaterials like proteins and DNA. Robb's research established new ways for controlling the structure and properties of a particular class of synthetic materials known as conjugated polymers, which are being developed for plastic solar cells and a number of other electronic devices. For example, his research demonstrated that the optical and stimuli responsive properties of a material can be tuned over a wide range simply by changing the way a particular repeating molecule is connected along a polymer chain. Robb also developed methods to control the functionality at the end of a polymer chain, which is important for controlling properties including charge transfer and mitigating defects in electronic devices.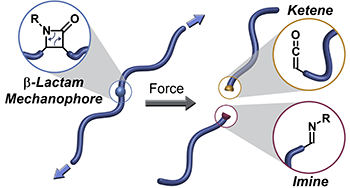 His current research at Beckman examines the development of polymeric materials that respond constructively to mechanical forces.
"The Henkel Awardee is selected based on the quality and level of innovation demonstrated in his or her thesis research, as well as the impact the research has had on the science of synthetic polymers or biopolymers," said Moore. "Max came to Illinois with great ideas, and, working in the collaborative spirit that defines the AMS group, he has developed a new mechanophore, a new mechanochromic moiety, and a general fluorescent sensor to report damage in a wide array of materials. This remarkable set of accomplishments reflects great ideas, hard work, and leadership in the AMS labs."
A mechanophore is a molecule that undergoes a chemical transformation when a mechanical force is applied. Moore and colleagues pioneered the concept of using mechanical force to promote selective reactivity in polymeric materials. Robb recently demonstrated that a beta-lactam molecule, which consists of a four-membered ring and is a principal component of many antibiotics, responds to mechanical force in polymeric systems to generate a reactive ketene group. He believes this newly discovered mechanical reactivity may provide a new route to develop self-healing materials, a key research interest of the AMS Group.
Robb also works with Nancy Sottos and Scott White of Beckman's AMS group to develop new technologies for detecting damage in polymeric materials.
"Instead of generating reactive chemicals using force, we are developing new molecules that change color or fluoresce to 'self-report' microscopic damage," said Robb. "In addition to developing a better fundamental understanding of mechanophore reactivity and design, this technology is important for improving the safety and reliability of polymer-based materials, while also reducing costs associated with routine maintenance and inspections."