Published on
May 31, 2016
Some things you may or may not know about Chris Mechling.
Your job in 100 words or less: I am the manager of the Beckman Café. I have the opportunity to feed some of the most brilliant minds in the world!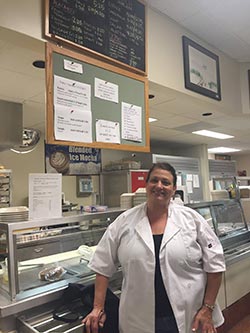 Time spent working at Beckman: I have been at Beckman for 17 fabulous years!
Favorite hobbies and interests: I garden, read, play with Molly and Stella (our two rescue black labs), and spend time with my family and friends.
Favorite place to eat: Home.
Favorite holiday traditions: We make caramel apples in the fall and candy canes, chocolates, pecan logs and crackerjack after Thanksgiving (we used to own Chris' Candy Shop and restaurant.).
More on Chris in The News-Gazette.