Published on
April 28, 2016
Since 2013, Sadowski has been looking at the relationship between toxicants and brain development in adulthood. She works primarily with Susan Schantz, a professor of toxicology, and Dan Llano, assistant professor of molecular and integrative physiology.
Sadowski's research focuses on the effects of polychlorinated biphenyl (PCB), an environmental contaminant found in fish living in the Great Lakes and the Fox Lake River in Wisconsin, on brain development.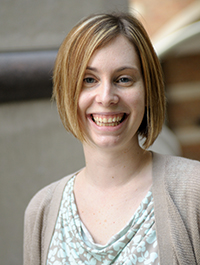 "PCBs, even though they were banned in the 1970s, are very persistent. They're not easily broken down, so they get in the fat and can stay there for decades. Also, even though PCBs were banned decades ago, people are still exposed from various sources. For example, there is recent evidence that PCBs are found in modern paints," said Sadowski.
"There's certain populations of people who eat a lot of fish and have higher body burden of PCBs. Our research studies how that may impact their children's development."
Sadowski creates a solution that mimics walleye fish from the Fox Lake River, and feeds it to female rats four weeks before they become pregnant. After the pups are grown, they are tested for changes in brain function.
Her findings have shown that when inhibition in the brain is blocked by using a drug, the PCB-exposed animals had greater activation, which suggests a misbalance of inhibition and excitation.
"Activational and inhibitory processes in the adult auditory cortex, a brain area important for hearing function, was disrupted in developmentally PCB-exposed rats. These changes may contribute to the increased seizures and impaired hearing that we've seen previously in these animals," said Sadowski.
Originally from Cullom, Illinois, Sadowski knew the name "Beckman" long before she came to Champaign.
"Arnold Beckman is actually from near my home town. It has a population of only 500 people, so it's really tiny. My dad knew him and talked to his family," said Sadowksi.
Sadowski received her undergraduate degrees in biology and psychology from the University of Illinois at Urbana-Champaign. She received her Ph.D. at Illinois in neuroscience and did much of her dissertation work in Beckman's Microscopy suite. While getting her Ph.D. in the lab of Janice Juraska, a professor of psychology, she became increasingly interested in the relationship between toxicants and development. After meeting Schantz, Sadowski became interested in findings showing that PCBs caused audiogenic seizures in rats.
After three years of research, Sadowski's next step will take her to the northern Chicago suburbs. She has accepted an offer with AbbVie Pharmaceutical Research and Development as a senior scientist in the neuroscience division.
"I really like the collaborative environment at Beckman. What I've realized being here, and probably why I'm going into industry, is that I like doing something new all the time," said Sadowski. "It's been great being surrounded by people who aren't only in neuroscience. It's one of the things I've really loved. Everyone from different backgrounds see things differently and have different perspectives."