Published on
May 23, 2014
Chancellor, a senior chemistry major planning to enter the business sector next year, works in Jeff Moore's lab. Giase conducts research in Florin Dolcos' lab, and is a junior molecular and cellular biology and psychology double major with a minor in chemistry, who intends to study neuroimmunology in grad school.
What were the steps you took to get a research position at Beckman?
Andrew Chancellor: When I was a sophomore, I went to a chemistry seminar, and the professor said, if you aren't doing undergraduate research, you're missing a huge chunk of the undergraduate experience. So over winter break, I decided to research lab options. There definitely was a feeling that I wasn't prepared enough academically, but once I got over that hump, I researched labs and there happened to be an opening in Professor Moore's lab. He connected me with a visiting researcher in his lab, and I just got started. Once you're in a lab, you can ask graduate students if they need an undergraduate, so when the researcher left, I was able to go to a graduate student I knew in the same lab who needed an undergrad.
Gina Giase: As a freshman, I found out there was an undergraduate neuroscience society, so I went to a meeting and someone from Diane Beck's lab came in and they were looking for undergraduate researchers. I didn't get that position, but there was another graduate student from the lab who wanted undergrads, so I joined up with her. After she graduated, I had the opportunity to look elsewhere. I saw the Dolcos lab was hiring, but by the time I emailed them, they had already gotten all of their research assistants and weren't looking, but I guess since I seemed so enthusiastic about their research when I was emailing them and interviewing with them, they just decided to bring me on and see if I was good at my job. A year later, I'm still here!
What do you do in the lab?
AC: Right now, I'm working with a system called ionic molecular glass, a glassy substance that is made out of organic molecules with charges. One goal that is under investigation is to make the glassy solid out of these organic molecules so that it isn't soluble with water—when you spray water on it, it doesn't wash or dissolve away. It could then be applied to outside surfaces, like windows, so it's protected when it rains.
GG: In the beginning, I was head of subject coordinating, so I'd recruit, screen, and run subjects for the various experiments. I also started shadowing to run subjects in the magnetic resonance imaging (MRI) so I could potentially be running them in the MRI on my own.
Then, as I'm approaching senior year, I switched gears to do my own research to write my senior thesis. We're using autobiographical memories to see how emotion and cognition affect your working memory. I'm going to be working through this entire project and then write a paper on it.
Andrew Chancellor
Year: Senior
Working in the lab of: Jeff Moore
Major: Chemistry
High School: Guilford High School, Rockford, IL
Future plans: Engineer/Scientist at UOP Honeywell
Best part of lab experience: Learning lab techniques and creating successful reactions.
What have you learned in the lab that you couldn't have learned in a classroom?
AC: There are so many problem-solving aspects in research in general because you're kind of working with materials and chemicals that no one has really experimented with. So there's that opportunity to see how chemists actually think and solve problems no else has before. That just doesn't come by reading a textbook. The lab has given me practical experience to problem solve, and that has prepared me for my future job.
GG: Research here has taught me that not everything is perfect: data doesn't always match up to how you think it'll be. This is real life, so what you might be thinking is the real answer might not be right at all.
I'm also learning a lot about scientific papers—both how to write them, and how to read them. They weren't really accessible before, but now I feel really comfortable with them, especially reading papers and gleaning the most important information.
What do you like about working at Beckman?
AC: Beckman is cool because there are so many different things going on. Even going to seminars, it's really fun because you get to see what other people are doing it and connect it with what you're doing as best as you can. Even if I don't understand it fully, it inspires me to continue on with my research.
As far as my research, I got my dream lab. There is awesome research going on at Beckman in general, and my main interest is organic chemistry, and that's what I'm doing now.
GG: Because I started working here freshman year and I had a little bit of gap between switching labs, it felt weird not being at Beckman. Beckman is a home away from home—it's such a supportive and comfortable environment.
Also, it's great with my interests to work here because Beckman has a strong foundation in neuroscience with the capabilities of using the MRI. It adds the extra component of imaging on top of typical psychology behavioral studies.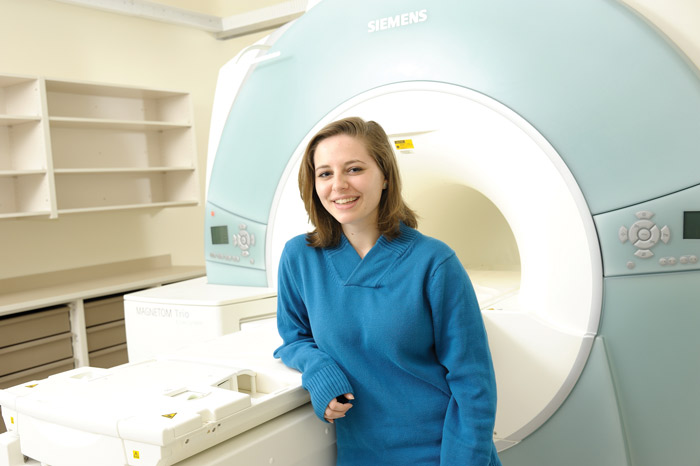 Gina Giase
Year: Junior
Working in the lab of: Florin Dolcos
Major: Molecular and cellular biology and psychology
High School: St. Charles North High School, St. Charles, IL
Future plans: Apply for grad school in neuroimmunology
Best part of lab experience: "Working alongside the grad students in the lab has been my favorite part of this whole experience."
What has surprised you about working here?
AC: When I first started working, I was surprised to find the simplest thing of pouring solution into a vial was tricky at first. Yes, I had the dexterity to poor a liquid into a vial, but I was kind of nervous because I'd never really done it before and the chemicals could have melted my skin. But eventually I became comfortable with it. It's amazing how independent I've become. Now I can just walk in the lab, and understand exactly what I need to do when I come in.
GG: I didn't think about it beforehand, but I've learned how to correspond professionally, especially in emails. It's not something I noticed until I started with the participant coordination. The impression you give through an email—and seeing what it's like when people don't send professional emails back—is way more important than I realized. I never thought that kind of stuff matters—but it does.
What advice do you have for undergrads looking to get a research position?
AC: When you're looking for position, find the labs that seem really exciting because you want to invest your time in something you care about. Then you have to put yourself out there. When you email professors inquiring about research positions, make sure to add a couple of lines about the specific research from their lab to show you're interested in their work and you've done your homework in finding out what their lab is all about.
GG: Definitely think about what you're interested in, and look up professors that match that, either in subject or if they're doing some technique you'd like to learn. Email professors, talk to them because even if they don't have openings, they could make an exception, like me, or they could call you up later down the road. Persistence is key if you want to get that dream undergrad lab position.
Any final thoughts?
AC: Trying to phrase how important this experience has been to me and my future career is tough—I can't phrase it well enough because it's been so important. It's been a game changer. It's opened opportunities just by opening my mind to what is out there. Beckman is important because you can see what possibilities are out there that you wouldn't be able to see otherwise.
GG: It's amazing preparation for my future. In grad school and in my future career, I'm going to be doing research, so learning how to do everything couldn't be more beneficial.