Published on
Feb. 3, 2014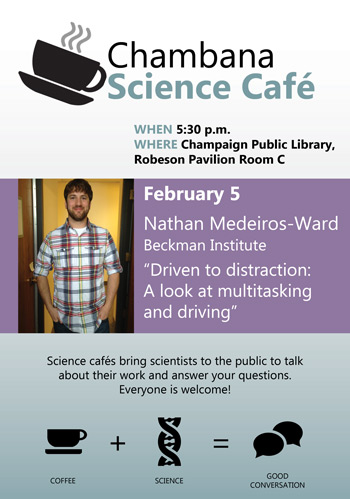 Medeiros-Ward will present a talk on multitasking and distracted driving as part of the Chambana Science Café lecture series. His research is based on studies conducted at the University of Utah and Beckman's Illinois Simulator Laboratory using a combination of simulated and real world driving.
He will speak at 5:30 p.m. on Feb. 5 in Robeson Pavilion Room C at the Champaign Public Library.
Science cafés are informal gatherings that bring scientists out of their labs to public areas to talk about their work and answer questions. The talks occur the first Wednesday of every month and are free and open to the public. Everyone is welcome!
Future presentations for this semester include psychology professor and Beckman faculty member Dan Simons (March 5); Beckman postdoctoral fellow Renee Sadowski (April 2); entomology professor Terry Harrison (May 7); and pathology professor Greg Freund (June 4).

The Chambana Science Café is sponsored in part by the Beckman Institute. More information may be found on the Chambana Science Café Facebook page.