Published on
Oct. 7, 2013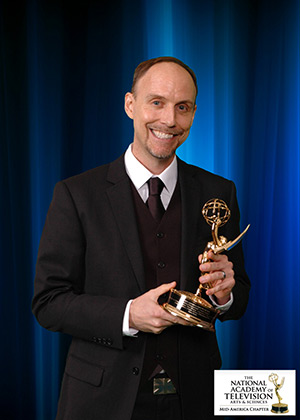 Steve Drake, video producer for the Beckman Institute, is on a winning streak. Drake was honored with a Mid-America Emmy Award for the third year in a row on Saturday night for his video, "
Why Men Are Better Navigators than Women: Adaptation or Testosterone Side Effect
." The video won in the Informational/Instructional-Feature Segment category, and was awarded at the 37th Annual Mid-America Emmy Awards in St. Louis, Missouri.
"I've been very lucky to work with some amazing researchers since I came to Beckman three years ago," said Drake. "I get to make videos on an incredibly diverse range of topics—everything from inattentional blindness, imaging technologies, materials that can heal themselves, and how we can stay mentally healthy as we age, to how the vibration of a molecule can change its smell, how clownfish can change their sex, and even what supercomputers and robots can tell us about ourselves. I think that's the biggest reason why we've been able to keep this Emmy streak alive. There's always something new and exciting going on here."
This latest Emmy winning video highlights the work of Beckman neuroscientist and evolutionary biologist Justin Rhodes. In it, Rhodes disputes the long-held theory that males are slightly better navigators than females because of the division of labor in early human hunter-gatherer societies. Rhodes and his team developed a way to put this evolutionary theory to the test. Eschewing a purely academic presentation of the material, the video presents Rhodes' evidence in a lighthearted way, with the help of animated cartoon cavemen, cavewomen, and a rambunctious woolly mammoth.
The video was a coproduction with the Illinois News Bureau, with life sciences editor Diana Yates acting as the associate producer on the project.
"Working with Justin and Diana on this project was great," Drake said. "It's terrific to work with people who look at research with an eye for not only telling the science story, but who know the value of making that story accessible and fun too."
Drake's previous regional Emmy winning videos were 2011's "
The Invisible Gorilla
," which featured psychology professor Dan Simons and a video confessional by the under-appreciated gorilla, and 2012's "
Sculpting Proteins
," which highlighted the collaboration between artist Julian Voss-Andreae, DePauw University, and Beckman's Klaus Schulten's in creating a series of huge sculptures based on Schulten's protein folding visualizations.
All of the videos created by the Beckman Institute are available
online
.