Published on
Aug. 15, 2013
Summer generally means a break from the usual routine—perhaps a beach vacation or at least time away from the office or classroom. The Beckman Institute hosts a number of students who want a change from their regular routine and an opportunity to engage in scientific pursuits. This year Rohit Bhargava's Chemical Imaging and Structures Laboratory is hosting a number of students.
---
This fall, William "Joey" Smith will be starting his sophomore year at Columbia University in New York, where he plans to go into biomechanics or biomedical engineering, with the goal of getting his M.D./Ph.D.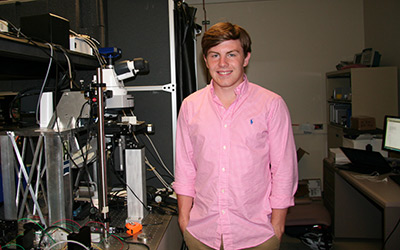 "When I was a senior at Uni (University Laboratory High School in Urbana), Sarah Holton gave a speech about the breast cancer research going on at Beckman, and she mentioned that they hire students over the summer," Smith explained. "When she was finished speaking, I told her I would be interested and I met with Professor (Rohit) Bhargava, who got me involved in the project."
Last summer, Smith worked at Beckman with Matt Schulmerich on a project looking at Raman spectroscopy of breast cancer tissue. The project not only provided him with new skills, but gave him an opportunity to do research in an actual working lab.
"Joey was involved in collecting Raman spectra from tissue biopsies with a prototype Raman instrument designed for collecting large spot dark-field Raman spectroscopy," said Schulmerich. "Joey collected measurements from more than 100 biopsy sections and showed great enthusiasm in both collecting and analyzing the data. He quickly became familiar with the software written in-house for collecting and processing it."
The experience was so rewarding to Smith that about midway through his freshman year at Columbia, he contacted Bhargava about opportunities for this summer. Smith will be working with Matt Kole on a project quantifying the lipid and protein content from sunflower oil specimens.
"This summer's project will be focused on building spectroscopy instrumentation as opposed to operating it," said Kole. "This will involve learning about the design and evaluation of mechanical components for handling specimens as well as writing software for controlling the different parts of the instrument."
The learning experience works on many levels for Smith. "Dr. Bhargava's lab is very friendly," he said. "Everyone in lab 3420, where I work, has given me good advice about undergraduate studies and tips about research.
"This is a good opportunity to work on stuff that interests me. I'm getting good exposure to biomedical engineering. Biomedical imaging has helped me learn more about biomedical systems and engineering."
---
Shachi Mittal has just completed her bachelor's degree in biochemical engineering and biotechnology at the Indian Institute of Technology. She worked this summer at the Beckman Institute as a scholar in the Khorana program, which promotes scientific cooperation between the U.S. and India.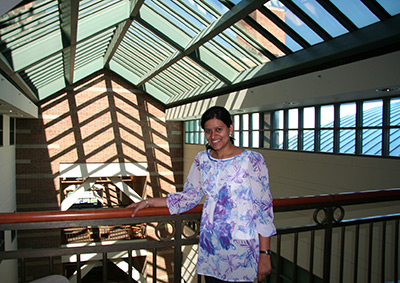 Mittal's research interests lie in chemometrics, the science of extracting information from chemical systems by data-driven means. At Beckman, she has been working with David Mayerich, a postdoctoral researcher in computer engineering, who is developing Chemical Imaging and Structures Laboratory (CISL) Automated Pathology Packet, a software that can classify infrared images of tissue biopsies.
"The goal is for the software to classify all types of cancers, so that the software can be used as a cancer detection method," said Mittal.
"Basically, current clinical disease diagnosis (say, for cancer) is done in a hospital by using a series of chemical stains," explained Mayerich.
"However, this method is non-quantitative, lacks repeatability, and destroys the tissue sample. The system we propose takes a single tissue biopsy and images it under mid-infrared radiation. This allows us to quantitatively extract chemical information that can be used to accurately classify cell types, which will allow us to accomplish the same task as current clinical techniques while preserving the tissue and providing repeatable results.
"We've already done most of the prototyping in the lab, so Shachi and others are building the software and putting it to more general use on different tissue types."
Mittal's work at Beckman is exposing her not only to how research actually happens, but how it is done in the United States.
"I applied for this program because I thought the internship would make me realize my weaknesses and strengths in research areas," said Mittal. "I am getting to actually analyze things, to know what aptitude I have for research.
"Working at Beckman has shown me that people are open to questions: the environment is such that you feel like asking questions. I am invited to seminars and meetings, and I am not at the same intellectual level as some other people, but they are willing to explain things."
Mittal also believes that the connectivity between the facilities at Beckman and labs throughout the building is exciting.
"I visited the Microscopy Suite, and they showed me the instruments there, and the instruments that they had built to meet a researcher's needs," she said. "Everyone in the building has knowledge about what everyone else is doing and [the facilities] cater to the labs. All the floors are interdependent and there are relationships between the labs."
When Mittal completes her two-month stay at Beckman, she'll return to India to pursue her master's in biochemical engineering and biotechnology. She would like to pursue a Ph.D., and, if fate allows it, she may even return to the States one day to work in research.
"There are more opportunities in industry here in my field," said Mittal. "If I stay in India, I will probably prefer academia, but if I stay in United States after my graduate studies, I would also like to explore industrial research for some years before getting into academia."
---
Max Li and David Bergvelt, senior students from Uni High, are assisting Mayerich and Shachi in writing the software package.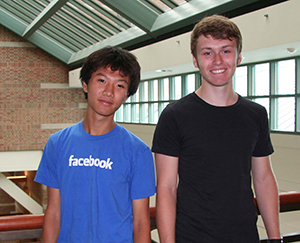 The school's ISTEM program placed them at the Beckman for a few weeks for school credit. "We both liked what we were doing here so much that we kept on going," said Bergvelt.
Li enjoys the diversity of the environment he has encountered at Beckman.
"I enjoy the fact that we are working with so many people from other fields, like biology and chemistry, not just programmers or computer scientists," said Li.
Someday they believe that the software they are helping to write will be used in a hospital, Bergvelt explained, but the immediate use is in labs by researchers.
"By having us here at Beckman along with the researchers, we're helping to bridge the gap between researchers and programmers," said Bergvelt.
"I'm glad that we've had this opportunity," said Bergvelt, who was planning to go into the engineering field, but because of this experience is becoming more interested in computer science. "It's nice to get this kind of exposure to research and programming."
Li plans to study mechanical engineering with a goal of working in the aerospace field.
---
Mallory Schroeder has just completed her freshman year at the University of Illinois. Her summer experience has helped her decide on a course of study.
"Toward the end of spring semester I decided to find a research lab that matched my interests and hopefully stay on campus for summer break," said Schroeder. "After exploring several labs and talking to a few professors I decided the Chemical Imaging and Structures Laboratory at Beckman best suited my interests and personal academic goals.
"I was trying to decide between the two bioengineering tracks of cell and tissue, and imaging and sensing, and I've since settled on cell and tissue, so [working in] Dr. Bhargava's lab was perfect."
Schroeder hopes to pursue her M.D./Ph.D. after she completes her undergraduate degree. She's met several graduate students in the lab who are in the program.
"I'm working with Mark Gryka, who is starting his first year of graduate school," said Schroeder. "I'm assisting him with his projects with tissue phantoms, Raman tomography, and a high-throughput breast cancer screening microfluidic device, which interests me the most. The low cost of microfluidics, little reagent use, and quick turnaround for results make it ideal for drug screening (as well as tons of other applications)."
Along with the other students, Schroeder thinks the early foray into the world of research won't be her last.
"The cleverness of some current microfluidic devices really sparks my imagination and desire to make my own," said Schroeder. "I'm planning on continuing research throughout my years as an undergraduate."