Published on
Oct. 11, 2007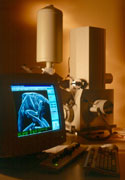 A presentation in June at the nation's capitol highlighting the Bugscope educational outreach program helped promote diversity in science and brought Bugscope to a wider audience.
In June, some of the nation's best and brightest young scientists were gathered in Washington, D.C. for the Noyce Scholars Program, an initiative of the National Science Foundation and an important part of the America COMPETES Act. At the meeting, Noyce Scholars were treated to a presentation about Bugscope, an educational outreach project of the Beckman Institute's Imaging Technology group.
In August the U.S. House of Representatives passed legislation aimed at "ensuring the United States' strong footing as a global economic leader and retaining our 'brainpower advantage'" according to the bill's supporters. The America COMPETES Act (H.R. 2272) was designed to improve math and science education and scientific research to ensure that the U.S. continues to lead the world in innovation, research, and technology.
The America COMPETES Act provides funding for more science, technology, engineering, and math (STEM) educational programs and for educating future teachers in those areas. It has several provisions related to diversity, including the NSF's Noyce Teacher Scholarship program, which is dedicated to promoting participation by minority and female students in science.
Bugscope is an ITG technology development project that has demonstrated that sustainable, low-cost access to remote instrumentation can be made available to K-12 classrooms by allowing students to remotely control ITG's high resolution scanning electron microscope.
Umesh Thakkar, a research scientist at Beckman and at the National Center for Supercomputing Applications and Adjunct Lecturer in the Department of Computer Science gave the presentation at the Noyce Scholars meeting. Already, some of the meeting's attendees have contacted ITG about taking part in the Bugscope project.