Klaus Schulten Memorial Fund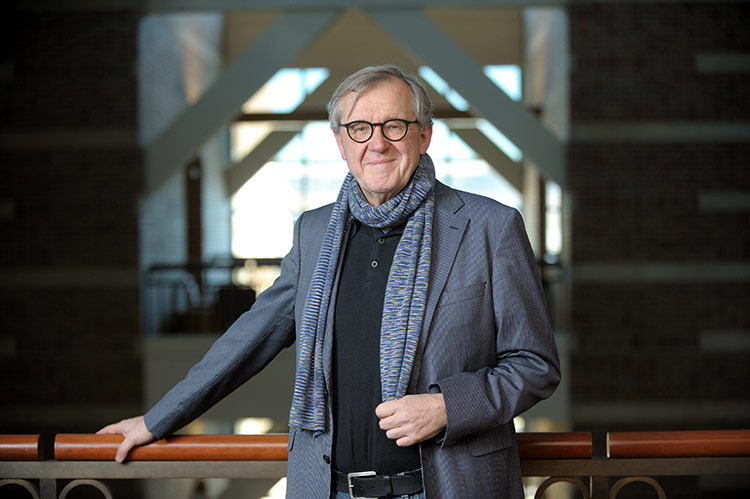 Supporting research in computational and theoretical biophysics, the fund honors Klaus Schulten (1947-2016), a leader in the field of biophysics.
Klaus Schulten (Jan. 12, 1947-Oct. 31, 2016), a physics professor at the University of Illinois at Urbana-Champaign and a long-time faculty member at the Beckman Institute for Advanced Science and Technology, was an innovator in the use of computational methods to study the chemical and biological processes driving living cells.
Schulten led a team of more than 30 students and postdoctoral scientists in the Theoretical and Computational Biophysics (TCB) Group, which he founded at the Beckman Institute in 1989, the year it opened. The group studies the structure and function of biopolymers and biopolymer aggregates by theoretical and computational means.
He and his research team developed software that allows scientists to observe how molecules behave and interact at the atomic scale. These include VMD, a program for the interactive display, animation, and analysis of large biomolecules, and NAMD, a large-scale molecular dynamics simulation program that incorporates the best available experimental data while accounting for the moment-by-moment chemical interactions of as many as 100 million atoms. Both programs are estimated to be used by at least 300,000 researchers worldwide.
Schulten was among the first scientists to use the Blue Waters supercomputer at the National Center for Supercomputing Applications at Illinois, applying theoretical physics to the fields of biomedicine and bioengineering, and dynamically model living systems.
"In biology and in biomedicine, we have to realize that basically all organisms are large societies of molecules," Schulten said at the time. "We need a supercomputer to see that society for the first time." He used Blue Waters to develop a "computational microscope" that captures biomolecules in action.
His mathematical, theoretical, and technological innovations led to key discoveries about the motion of biological cells, including understanding sensory processes in vision, animal navigation, light energy harvesting in photosynthesis, force generation in cells, membrane channel dynamics, and large-scale cellular organization. He and his colleagues revealed the precise chemical structure of the HIV capsid and contributed to a deeper understanding of the chemistry of odor detection.
During his career, he published more than 700 research articles, which were cited nearly 100,000 times.
Schulten was a Swanlund Professor of Physics, the director of the National Institutes of Health Resource for Macromolecular Modeling at Beckman, and a co-director of the National Science Foundation Center for the Physics of Living Cells at Illinois. He also was affiliated with the Department of Chemistry and the Center for Biophysics and Computational Biology at Illinois. He trained more than 77 graduate students in physics, biophysics, and chemistry at Illinois.
Schulten was a Fellow of the Biophysical Society (2012) and of the American Physical Society (1992). He received the Sidney Fernbach Award (with Laxmikant "Sanjay" V. Kale) from the IEEE Computer Society in 2012. He received the Biophysical Society Distinguished Service Award for 2013, for "laying the groundwork for the realistic molecular dynamic simulations of biological macromolecules on time scales that match the physiological realm, and for making the methods and software openly available." He was the Biophysical Society National Lecturer in 2015, the highest form of recognition given by the society.
He was born in Recklinghausen, Germany. He graduated from the University of Muenster with a degree in physics in 1969, and earned a Ph.D. in chemical physics from Harvard University in 1974. After graduating, he joined the Max Planck Institute for Biophysical Chemistry in Göttingen, where he remained until 1980. He then became a professor of theoretical physics at the Technical University of Munich and remained there until he joined the physics department at Illinois in 1988.
---
How to give
To make a secure online gift, simply fill out the form below. To make a gift by mail please send your check or money order payable to the University of Illinois Foundation. Please include a note (or memo on your check) stating the purpose of your gift as: Klaus Schulten Memorial Fund and mail to: University of Illinois Foundation, 1305 West Green Street, Urbana, IL 61801. If you would like to make a gift by phone, please call the University of Illinois Foundation Cash Desk at 217-244-2706.
---
For more information please call 217-244-1176 or email giving@beckman.illinois.edu. Additional information about ways to give is available at the University of Illinois Foundation website.