December 2016 Beckman Bulletin
The Beckman Bulletin is a monthly digest from the director of the Beckman Institute. The Bulletin is sent to all faculty and staff. Each issue will highlight the latest happenings from around the Institute.
Issue 82: December 2016
Plan on Attending
The Beckman Institute Town Hall at 3 pm Monday, December 12, in the Beckman Auditorium. Topics to be discussed include:
New Intelligent Systems Research Theme
External Advisory Committee Reviews: Integrative Imaging and upcoming Molecular and Electronic Nanostructures
Director Search updates
Update on postdoc fellow applications
F&A Distribution
Improving Internal Communication
Honors and Awards
Pan Named Fellow of AHA
Dipanjan Pan, assistant professor of bioengineering and member of Beckman's Bioimaging Science and Technology Group, has been named a Fellow of the American Heart Association in the AHA's Council on Basic Cardiovascular Sciences.

Beckman Faculty Receive Distinguished Promotion Awards
Congratulations to Ryan Dilger, associate professor of animal sciences and member of the Bioimaging Science and Technology Group; Hyun Joon Kong, associate professor of chemical and biomolecular engineering and member of the Bioimaging Science and Technology Group; Paris Smaragdis, associate professor of computer science and member of the Illinois Language and Literacy Initiative; and Rebecca Stumpf, professor of anthropology and member of the Bioacoustics Research Lab, for receiving the 2016 Distinguished Promotion Award from the University of Illinois.

Researchers Named to Highly Cited Researchers List
Researchers have been named to the Clarivate Analytics Highly Cited Researchers list for 2016 (previously known as the Thomson Reuters Highly Cited Researchers list) include professor Yi Lu, from the 3D Micro- and Nanosystems Group (chemistry), and professor Catherine Murphy, from the Nanoelectronics and Nanomaterials Group (chemistry). Former U. of I. materials science and engineering professor John Rogers, now at Northwestern University, also is on the list (physics, materials science). Rogers maintains an affiliation with the College of Engineering and with the Beckman Institute for Advanced Science and Technology at Illinois.

Allain Chosen as Faculty Entrepreneurial Fellow
J.P. Allain, associate professor of nuclear, plasma, and radiological engineering and member of the Nanoelectronics and Nanomaterials Group, was selected as a Faculty Entrepreneurial Fellow by the College of Engineering. The program allows faculty to rotate out of the classroom and other service to the university for a year to focus on taking a developing technology and evaluating its commercial potential. A prototype team plans to build a plasma source that can interface and modify the surface of biological implants.

Mohaghegh Receives Awards
Zahra Mohaghegh, assistant professor in nuclear, plasma, and radiological engineering and member of the Organizational Intelligence and Computational Social Science Group, is the 2016 winner of the American Nuclear Society Mary Jane Oestmann Professional Women's Achievement Award.

A member of the faculty in Nuclear, Plasma, and Radiological Engineering at Illinois, Mohaghegh is cited for her leadership, entrepreneurship, substantial multi-disciplinary research and scholarly contributions in the area of probabilistic risk assessment (PRA). She is noted for her pioneering introduction of human and organizational factors in PRA of socio-technical systems in nuclear and other fields.

She also received the 2016 Engineering Council Award for Excellence in Advising.
Did you know?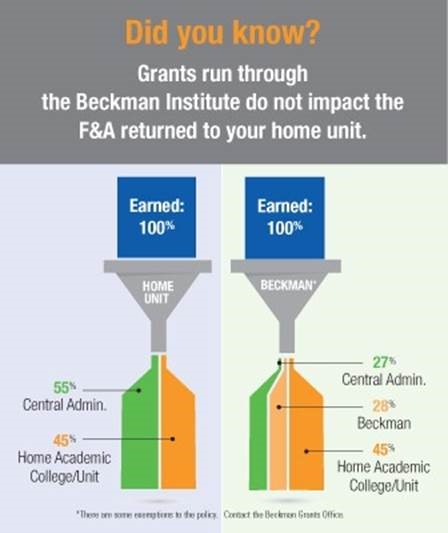 Grants run through the Beckman Institute do NOT impact the F&A returned to your home unit. Please contact the Beckman Grants Office for more information.

Aids for Research
Make Research Data Public
An easy way to make your research data public is to deposit it in the Illinois Data Bank. See databank.illinois.edu/ for more information. This is a service of the Research Data Service (researchdataservice.illinois.edu/) which supports the Scholarly Commons, workshops and training, development of data management plans, and more. If you would like to have RDS staff do training at Beckman, please contact Associate Director for Research Patty Jones (pmjones5@illinois.edu).
Research Computing
The Illinois Campus Cluster Program now offers Research Computing as a Service (Rcaas) in addition to its traditional pricing model of purchasing nodes. See the policy online: https://campuscluster.illinois.edu/invest/sld.html
Team Science
If you are interested in "team science" or want to learn how to do interdisciplinary collaborative work even more effectively, the NIH has a great online resource called the Team Science Toolkit: https://www.teamsciencetoolkit.cancer.gov/Public/Home.aspx
Illinois Experts Database
The beta version of the Illinois Experts Database is online! Researchers can go in and edit their profiles, making it easier to find collaborators across campus. Take a look: https://experts.illinois.edu/
Students and Postdocs: Survey on Working Spaces at Beckman
Please fill out our online "office" survey by December 15: https://www.surveymonkey.com/r/V3M7B6K
EVENTS
Director's Seminar: "Computer Models of Neuroadaptation to Chronic Administration of Antidepressant Drugs," Thomas Anastasio
Noon Thursday, Dec. 1, Room 1005 Beckman Institute

What is to be Done? The Work of the Humanities in the Present
5:30-8 pm Tuesday, Dec. 6, IPRH Seminar Room, Levis Faculty Center, 4th floor

Graduate Student Seminar
Noon Wed, Dec. 7, Room 1005 Beckman Institute

Thursdays at 12:20: University of Illinois Brass Choir
12:20 pm Thursday, Dec. 8, Beckman Atrium

Beckman Institute Town Hall
3 pm Monday, Dec. 12, Beckman Auditorium

SAVE THE DATE: Holiday Party
3-5 pm Friday, Dec 16

The café will be closed December 19 – January 2.
---
Note from the Interim Director:
I have been in the interim director role now for nearly six months. In that time, I've gotten to see the workings of the Beckman Institute in a whole new light. Please join me at 3 pm on Monday, Dec. 12, in the Beckman Auditorium as we discuss happenings of the past year and some of our plans for the future.

On top of all the great research that is being conducted by our students, researchers, and faculty, I've really come to appreciate all the behind-the-scenes work that allows researchers like myself to get on with my work. I'd like to acknowledge here all the work the Beckman support staff does. And I'd encourage you all to take some time to thank the staff and administration for all that they do.

On that note, I'd also like to thank Kathy Harper, who was been serving as the assistant to the director through at least two permanent and two interim directors. Kathy will be retiring later this month. Please join me in congratulating her and wishing her well in her future endeavors.

I wish you all a satisfying end to your semester and safe and happy holidays. See you in 2017!

Jeff Moore
Interim Director
Beckman Institute for Advanced Science and Technology