Jana Diesner to Present at Science Cafe on Dec. 4
The Chambana Science Café, which meets on the first Wednesday of every month, is hosting Jana Diesner at 5:30 p.m. on Dec. 4 in Robeson Pavilion Room C at the Champaign Public Library.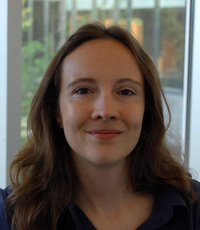 Jana Diesner, assistant professor in the Graduate School of Library and Information Science (GSLIS), will present a talk on social network analysis and studying the data traces we leave behind every day as part of the Chambana Science Café lecture series.
Science cafés are informal gatherings that bring scientists out of their labs to public areas to talk about their work and answer questions. The talks are free and everyone is welcome.
The Chambana Science Café is sponsored in part by the Beckman Institute for Advanced Science and Technology. More information may be found on the Chambana Science Café Facebook page.