Beckman's Fulbright Scholars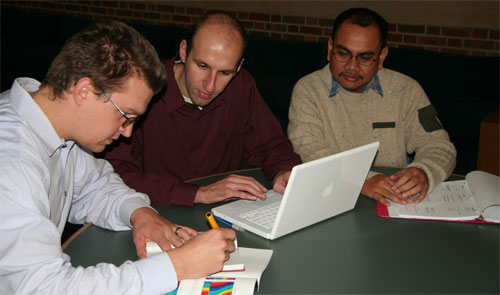 Several Beckman Institute faculty members and students have taken advantage of the opportunities offered by the Fulbright Program. They talk about their reasons for studying and working abroad, and about America's best known international scholarly exchange program.
Faculty and students find exchange program rewarding
Scott Carney is a professor in electrical and computer engineering at the University of Illinois and a member of the Beckman Institute's Bioimaging Science and Technology group. Come January of 2009, he will add the title of ambassador for the United States to his resume.
When an offer came along to join a university in the Netherlands during his upcoming sabbatical, Carney said yes, but also decided to apply to the Fulbright Scholarship Program, described by one of its administrators as the "U.S. government's flagship academic exchange effort." Carney will be collaborating on research in theoretical statistical optics with a friend and colleague at the Vrije Universiteit (Free University) in Amsterdam, but he will also be going abroad with the type of perspective the Fulbright Scholar Program encourages.
The Fulbright Program is sponsored by the United States Department of State, Bureau of Educational and Cultural Affairs. Established in 1946 through legislation sponsored by Senator J. William Fulbright, the State Department says the Fulbright Program is now a "mainstay of America's public-diplomacy efforts."
"I'm very happy to be doing it and I'm very proud to be a Fulbrighter," Carney said. "It comes with things other than just the financial support. It comes with responsibilities to do these outreach efforts. They really expect us to be ambassadors in a sense. It was just a happy marriage, a good coming together of things."
Carney is just one of several current and former Beckman Institute faculty and students who have taken advantage of one of the Fulbright Program's many opportunities for scholarly exchange. Those opportunities include programs for students from the United States to study abroad, for foreign students and academics to study and do research here, for American academics to serve as visiting scholars and researchers abroad, as well as other programs for professionals such as teachers and engineers.
The Fulbright Program is sponsored by the United States Department of State, Bureau of Educational and Cultural Affairs. Established in 1946 through legislation sponsored by Senator J. William Fulbright, the State Department says the Fulbright Program is now a "mainstay of America's public-diplomacy efforts." Their Web site says that as of 2008, more that 285,000 Fulbrighters from over 155 countries have participated in the Fulbright Program since its inception, and that their worldwide alumni hold top positions in areas such as government, higher education, and law.
The program is administered by the Bureau and by cooperating agencies here and abroad such as the non-profit Institute for International Exchange (IIE). The IIE says the program "provides funding for students, scholars, teachers, and professionals to undertake graduate study, advanced research, university teaching, and teaching in elementary and secondary schools. The flagship international educational program sponsored by the U.S. Government, the Fulbright Program is designed to increase mutual understanding between the peoples of the United States and the people of other countries."
Carney sees the desire to increase mutual understanding between people and countries as part of his Fulbright mission. He added that the pursuit of science and the cultural exchange ethos of the Fulbright Program are completely compatible.
"The mission of the Fulbright Program is largely cultural but they view the knowledge base of mankind as part of our culture," Carney said. "I think it's a very enlightened view of what culture is. Culture isn't just folk songs and old stories; it's also what we understand about the universe."
Though he has been to the Netherlands several times before, Carney said he believes living and working there will give him a new perspective on the country. He also thinks that sharing his knowledge with foreign academics and students will benefit everyone.
"I'm hoping to learn more about the day-to-day life, not just the barnstorming tourist view," he said. "I'm also hoping to make more long-term contacts scientifically and educationally. I'll be talking to high school students and I'll be working with graduate and undergraduate students at the Free University and those relationships are something I will carry with me out of the experience.
"And I'm looking to learn Dutch," he added. "I'm working on that. The whole idea is that the more we know about each other the better off we are."
Some other Beckman faculty members who have won a Fulbright scholarship include Kay Bock, Robert Fossum, and George McConkie.
Like Carney, Bock used a sabbatical and a Fulbright scholarship to do research in Amsterdam. Bock, a member of the Cognitive Science group at Beckman who studies language production, said the Fulbright experience was valuable for many reasons, especially as it applied to her research work. Bock said she went there specifically to work with a well-known researcher in her field.
"The director of the institute where I was is one of the pioneers in that field," Bock said. "We worked on a paper together that has had a lot of influence. It laid the foundation for lots and lots of things."
Bock also was called on to talk to Dutch high school students who were getting ready to travel to the United States as part of the Fulbright Program and she said she was happy to do it. "They asked so very little; it was virtually all benefit for me and no cost."
Bock said she gave many talks in Europe and made many contacts during her time as a Fulbright Scholar.
"The Fulbright made it possible to spend the whole year there," she said. "It was extremely valuable.
"And since then I've learned Dutch," she added with a laugh.
Fossum, who is now retired as a professor, spent a year at the University of Oslo on a Fulbright Scholarship while a Professor of Mathematics at Illinois. He said it helped his career in many ways, especially for the chance it offered to meet colleagues from all over the world.
"The advantage was I got to meet a lot of people, not just in Norway but all over Europe," Fossum said of the experience. "As a Fulbright Scholar it provided for travel to England and France so I met a lot of people. I think all of these contacts are what really made my career."
In June it was announced that a record number of University of Illinois students and recent graduates earned scholarships from the Fulbright U.S. Student Program for the 2008-09 academic year.
Two graduate students Carney is advising are "Fulbrighters": Robert Schoonover, an Illinois native who spent nine months in Amsterdam on a grant from the Fulbright U.S. Student Program, and Budiman Dabarsyah, a native of Indonesia who came over on the Fulbright's Foreign Student Program.
Schoonover said he was lucky in that he got to study under a sponsor, Visser, who was already known by his advisor, Carney.
"It was much better to send me away to someone we knew rather than just go somewhere and hope it works out," Schoonover said. "It turned out that Taco Visser at the Free University in Amsterdam was willing to take on a free student for nine months and he was a spectacular host."
Schoonover said there is no orientation program for Fulbright scholars.
"It was up to me to get myself ready for whatever it was I was getting into," he said. "Again, Professor Visser helped quite a lot with that.
"The important thing was to just be a good ambassador," he added. "Every year the Fulbright Program has a topic, so (the scholars) go to the high schools and they have American students talk with these Dutch students."
Schoonover said he is of Dutch descent, so he did a little genealogical sightseeing during his stay.
"Part of my family is from the Netherlands so I took a little field trip to go see where my family was from," he said. "It looked a lot like central Illinois. It was the same place. My ancestors moved across the Atlantic Ocean to live in the exact same area: a farming community with 800 people."
Schoonover described his Fulbright experience as a good one. He said he did it partly to gain a new perspective after having grown up in Illinois and earning his undergraduate and Master's degrees from the University.
"I think Scott could tell I was getting a little stir crazy being in Illinois," he said. "I was born and raised 150 miles from here so we talked about doing a study abroad thing. As we looked at the different programs it seemed like the Fulbright was the one that matched up most with that stage of my career. I think for the most part I came back pretty energized."
Dabarsyah earned his Master's at the University of Southern California but returned a dozen years ago to teach at a university in his home country. He said the Fulbright Program is well-known in Indonesia as an opportunity for studying abroad through advertising and mailing lists.
"And some of the Fulbright jury members in my county are also faculty members at my university," Dabarsyah said. "They encouraged me to apply."
Dabarsyah said he wanted to advance his academic career and the Fulbright Program was a good way to do that.
"The thing about the Fulbright Scholarship is it gives you an opportunity to enter a very good school," he said, adding with a smile, "and a very expensive one."
Dabarsyah said the Fulbright Scholarship covers most of his tuition and only asks in return that he takes his education "as seriously as possible.
"Just concentrate on my education. After that I must go back to my country and network, and help the friendship between the U.S.A. and my country."
Carney said he won't be teaching while in the Netherlands but will be doing research and educational outreach efforts. He also is looking forward to experiencing life in the Netherlands firsthand, for a number of reasons.
"It's a sort of concentrated Petri dish of what's happening in Europe and in the world at large," Carney said. "So it's a very interesting time to see what's happening in Holland. I think Holland is really the country to watch. I'm hoping to learn a lot. We're planning on living right in the heart of it, right in downtown Amsterdam, so it should be an interesting experience."