As Science Evolves, So Do Beckman Institute's Research Goals
The recent reorganization of the Molecular and Electronic Nanostructures research initiative is but one example of how adapting to change in a research environment is an integral part of the Beckman Institute's mission.
Recently, the Beckman Institute was chosen as headquarters for two important new centers dedicated to nanoscale research - one geared toward medical applications such as bio-batteries and another concerned with electromechanical systems like switches. Both centers are highly interdisciplinary and represent vigorous collaborations between multiple universities.
That Beckman was selected to be home to the centers is a testament to the faculty members involved in the projects, but it can also be seen as evidence of another crucial component of the Institute's research mission: change.
The centers are part of Beckman's Molecular and Electronic Nanostructures (M&ENS) research initiative, which was first formed in 1994. It was a groundbreaking research theme a dozen years ago and the fact that these centers, created through large, focused funding initiatives from the National Institutes of Health and the Department of Defense, are now a part of M&ENS shows that this research initiative continues to evolve and remain relevant.
"If we take a snapshot now and we look at what we will be five years from now, we want the picture to reflect innovation and change."
- Pierre Wiltzius, Director of the Beckman Institute
Within the past year M&ENS underwent a reorganization that saw the creation of two new groups, a name change for two others, and a realignment of some faculty members into different groups that reflect the continuous and fast-changing developments in nanoscale research.
Beckman Director Pierre Wiltzius said change and growth are essential to making scientific research work.
"If you look at what research has flourished and grown compared to what M&ENS was five years ago, you will notice a number of differences," Wiltzius said. "Hopefully that will always be the case. If we take a snapshot now and we look at what we will be five years from now, we want the picture to reflect innovation and change."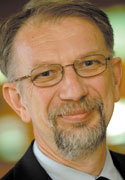 Pierre Wiltzius
Wiltzius said there are several reasons for changing Beckman's research foci, such as happened with the reorganization of M&ENS. Some of those reasons include faculty changes, new developments in technology and research trends, and new research topics brought about by recent discoveries. Those factors all applied to the M&ENS reorganization.

"If we look at the old research groups, they had grown and evolved in all sorts of different directions that were no longer in alignment with what the groups were called," Wiltzius said.

One example is the Autonomous Materials Systems group, headed by Scott White, which evolved from the Advanced Chemical Systems (ACS) group. Investigating autonomic materials grew into an extremely successful research line for ACS, so members involved in that area formed the new group, while others became key players in one of two new groups, either 3-D Micro and Nanosystems (3-DMN) or Bioimaging Science and Technology (BST).
The Nanoelectronics and Biophotonics (NB) group is now the Nanoelectronics group, headed by Joe Lyding, with the members involved in biophotonics research joining BST. With its researchers' focus on bioimaging, the BST group was made part of the Biological Intelligence research initiative.
"It's clear that bioimaging and neuroimaging have grown from what they were just five years ago," Wiltzius said. "More importantly, as very much an interdisciplinary research field that draws from many different departments across campus, it needs a home and the Beckman Institute has turned out to be a very natural home for it. So we concur with the Provost and the Vice-Chancellor for Research that bioimaging and neuroimaging as a subgroup are very much centered at the Beckman Institute."
The two new nanoscale centers are both part of the new Computational Multiscale Nanosystems (CMN) group, led by Umberto Ravaioli. Research based on computational methodologies and their ever-increasing processing power has exploded in recent years. M&ENS already boasts a world leader in biophysical computational methods with its Theoretical and Computational Biophysics group, headed by Klaus Schulten.
Ravaioli said the Computational Multiscale Nanosystems group is relying on that advanced processing power, thanks in large part to collaborations with the National Center for Supercomputing Applications, as well as the advantages offered by multiscale simulations, to explore new ground at the nanoscale and above.
"With the improvements in computational power, doing multiscale simulations has become a very important aspect of computational science," Ravaioli said. "Multiscale means that phenomena may be important from the atomic scale to the normal sizes we experience."
Beckman Institute faculty members will lead the new centers. Eric Jakobsson heads the National Center for the Design of Biomimetic Nanoconductors, while Andreas Cangellaris is a co-director of the IMPACT Center for the Advancement of MEMS/NEMS VLSI.
Ravaioli said the IMPACT Center enhances research into small-scale electromechanical systems for very large system integration because it allows some experiments to be performed computationally that couldn't be done otherwise.
"Reliability is the main problem and experiments are extremely expensive," he said. "So a computational methodology allows you to optimize systems and gives the experimental people some direction as to where they should move their resources. It can not only eliminate some of the experiments which are very expensive, but it can also design virtual experiments which are not possible to do otherwise, where an observable quantity cannot be accessed so easily, or not at all."
Ravaioli said CMN group members focus not only on a multiplicity of scales, but also of physics.
"In addition to a multiplicity of scales, one can also consider multi-physics phenomena where, for example, one can combine mechanical properties with gas flow and electrical or thermal processes, to really find out how a system behaves in detail."
Members of the CMN group come from a variety of disciplines, a fact that is also a growing trend in science.
"It is an approach where many types of expertise come into play," Ravaioli said. "The divisions between disciplines are getting more and more blurred. For instance, mechanical engineers may work on issues that would be traditionally the domain of electrical engineers, and vice versa."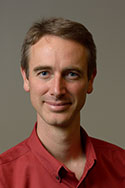 Paul Braun
Paul Braun is a former member of the Advanced Chemical Systems group who now heads the other new M&ENS group, 3-D Micro and Nanosystems. He said ACS had become a very large group with a variety of interests and that 3-DMN helps to focus research around another growing research trend, that involving tiny three-dimensional structures of different compositions, properties, and potential uses.
"Since the original founding of the ACS group the research directions of everybody had evolved a little bit," Braun said. "Looking across both NB and ACS it was clear that there was a group of people with, broadly speaking, a common set of interests on how to build unique three-dimensional structures for photonics, for electronics, maybe for biosensing, for a whole slew of applications."
Braun said research into three-dimensional micro and nanosystems is one of the core strengths of the Institute, and that research into two-dimensional structures is becoming played out.
"If you look at, for example, photolithography which has now been around for 30 years, two-dimensional systems have pushed to the resolution now where you're almost defining individual molecules in two dimensions," he said. "If we look at the talents and opportunities, three-dimensional is where the future research in those sort of fabrication devices and properties is headed."
The group will also be highly interdisciplinary, with faculty members from six different departments. Braun said 3-DMN will include research into making 3-D micro and nanosystems through biological routes, as well as self-assembly and top-down fabrication methods.
"There are ways to think about using chemistry to bring pieces together, engineering approaches, thermodynamic methods," Braun said. "There are such diverse ways to build these structures. In each department there are unique strengths and backgrounds and everybody brings their own unique perspective - but with, at least from a broad perspective, a fairly common goal."
Braun said 3-D structures offer advantages such as miniaturization for electronics, and manipulation of photons for photonics. Some future applications could include nanosystems for use in biosensors, for alternative energy uses, and for building artificial tissue.
Change also occurred in the Computational Electronics (CE) group, headed by Jean-Pierre Leburton, which saw longtime Beckman faculty member Karl Hess retire and the passing of Walter Philipp.
Wiltzius said the reaction to the reorganization of M&ENS has been mostly positive because researchers realize that change is a necessary part of doing good science.
"By and large it is something that is viewed as not coming out of the blue or arbitrary, but really makes a lot of logical sense," Wiltzius said. "Needless to say, with new things being born and others disappearing, there is always a certain amount of mourning.
"Also there are certain anxieties that go with finding one's new home, so to speak. There is no doubt this is what we do, this is what we are most active in right now, so this is the right thing for now, and in a few years it will change yet again. The only thing for sure is that we will keep changing."