Published on
Feb. 28, 2017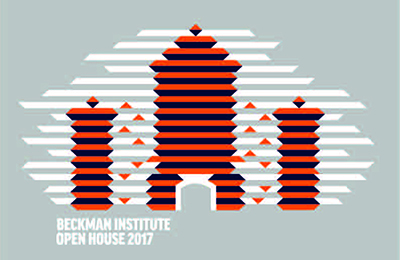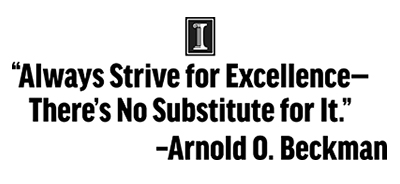 Graphic designer Christie Klinger decided to turn her talents to something a little more whimsical than journal covers and scientific figures when she created the winning T-shirt design for the Beckman Institute Open House.
"I decided to abstract the iconic Beckman building using basic shapes and color for definition," Klinger said about her winning design, which is featured in the campus's traditional orange and blue colors. "I wanted the design to be simple yet striking and identifiable from a distance. Researchers at the Beckman Institute are constantly innovating, and they always have cutting-edge solutions to problems. The design's abstraction represents the unique perspective researchers at Beckman all share."
Although Klinger recently moved to Glenview, Ill., she works remotely as a graphics specialist and designer for the Beckman Institute and the National Center for Supercomputing Applications.In addition to working as a freelance graphic designer, she started as a graphics specialist for the Visualization Lab at the Beckman Institute in September 2015. "It's been a blast!" Klinger said, explaining that she collaborated with the Imaging Technology Group (ITG) and university clients to create journal covers, scientific figures, wayfinding materials, and infographics.
More recently, she has been working with the ITG team and the Department of Anthropology at Illinois to create cutting-edge augmented reality app content, including project branding and identity, 3D modeling, and advanced renders.
Since the open house is biennial, this will be her first one and she's really excited about attending. "I can't wait to learn more about all the incredible interdisciplinary research taking place here; it will be an amazing learning experience," Klinger said. "And it doesn't hurt that hundreds of volunteers will be sporting my T-shirt design!"